Regular price
Sale price
$94.00 USD
Unit price
per
Sale
Sold out
FFF Apple Watchband Sizing Graphic
We use the same deceptively simple button-stud closure from our original invention, the Button-Stud Watchband, and then laser cut the Horween leather to fit you perfectly. Having the closure up on the side of your wrist instead of the bottom where it bangs into your laptop is "so comfortable you'll forget you're wearing it," according to a dude from the internet.  
Please be sure to follow our sizing guide to select the correct hole.  Ideally, if you don't have an apple sport band, you could borrow a friend's who wears the same size watch (smaller, larger, or Ultra face is the only variable; the watch itself is the same size, the screen just gets bigger and bigger every version).
Please note: For the Apple Watch Ultra, we use adapters specifically for the Ultra that match the lines of the Ultra case, are matte stainless, and VERY closely match the titanium of the Ultra. Our standard is to pair them with a stainless steel button stud.  If you would like a black button stud just make a note in the special instruction section for your order. You will still need to use the standard apple sport band to size your custom length FFF band, we will not size based on a wrist measurement or any of the standard Ultra bands from Apple, so if you only have the ultra you'll need to borrow someone's sport band to get the correct size.
Engraving & Monogramming

In general, we are subtle with our personalized engravings & monograms. Smaller products receive smaller monograms, and any personalized messages are hidden where the owner can see them but they are not 'out in the open' whenever possible. If you have specific preferences for any customized engravings, make a note in the special instructions section after selecting your options and we'll contact you to verify after your order.
Product Dimensions

Band width of 24 or 26mm, depending on size of watch, with a taper moving to 80% width in the middle. Length depends on your wrist size.
Product Launch & Revision History

Original Release Date: July 2015
Revision 1: Late July 2015, additional adapter/stud colors (matte silver/black)
Revision 2: Mid August 2015, added matte black adapter
Revision 3: Late January 2016, added gold/rose gold adapter
Revision 4: Early March 2016, removed gold/rose gold; color did not match. Unless Apple releases certified adapters for these, we probably won't offer them because trying to find good matches has been a huge waste of time.
Revision 5: Early October 2016, added XL sizes
Revision 6: November 2016, added colors
Revision 7: January 2017, revised colors/photos
Revision 8: September 2018, confirmed sizing is same for 38/40mm and 42/44mm faces (Series 4 Apple Watch), updated options in pickbox to reflect
Revision 9: August 2020, slightly wider bands, full length over-edge stitching at adapter, revised stud closure hole, revised short band stitching at stud.
Revision 10: March 2021, new stitching with more stitches, longer 'short side' band, larger stud hole.
Revision 10: January 2023, added AW Ultra adapters.
What Kind of Leather Does FFF Use? What's this Chromexcel/Veg Tan/HF stuff instead of just leather color? Where are your products made?

We make everything by hand in Orlando. 

As to the leathers we use: The super short answer is Horween Leathers in Chicago, and because we're leather geeks we want you to know exactly what you're getting--it's so much more than just the color of the leather.

You can find more info HERE about how we do things.

You can super-geek about the various leather types/tannages we use in our different products HERE.
Share
View full details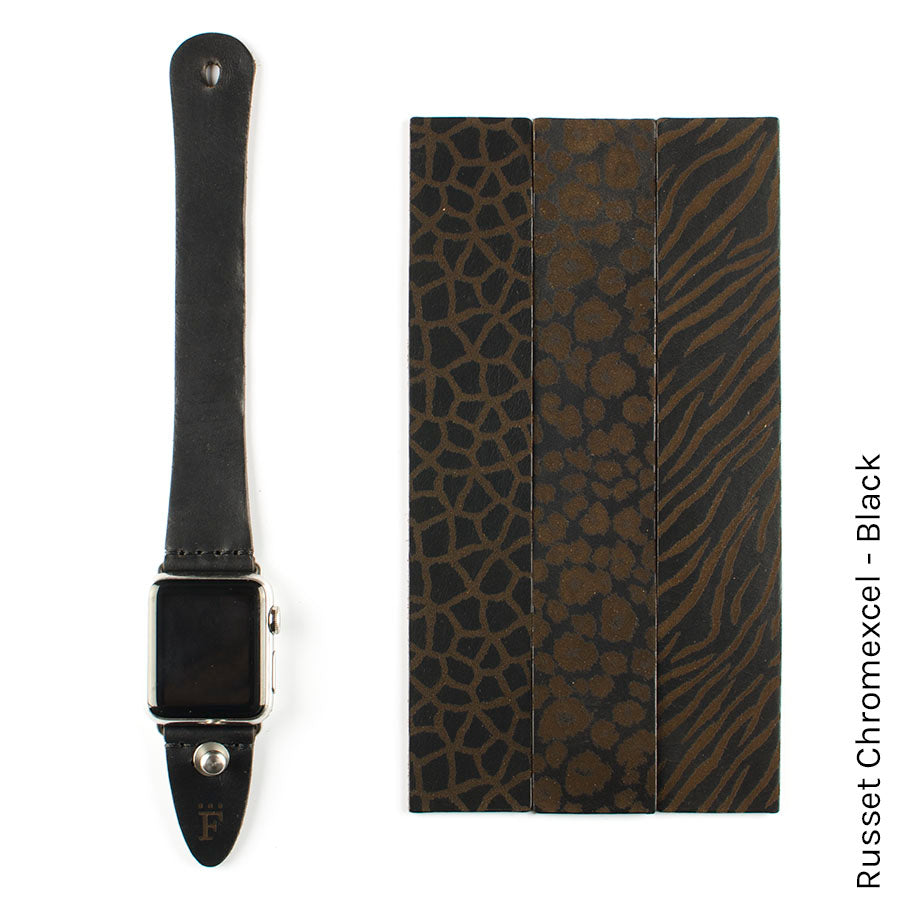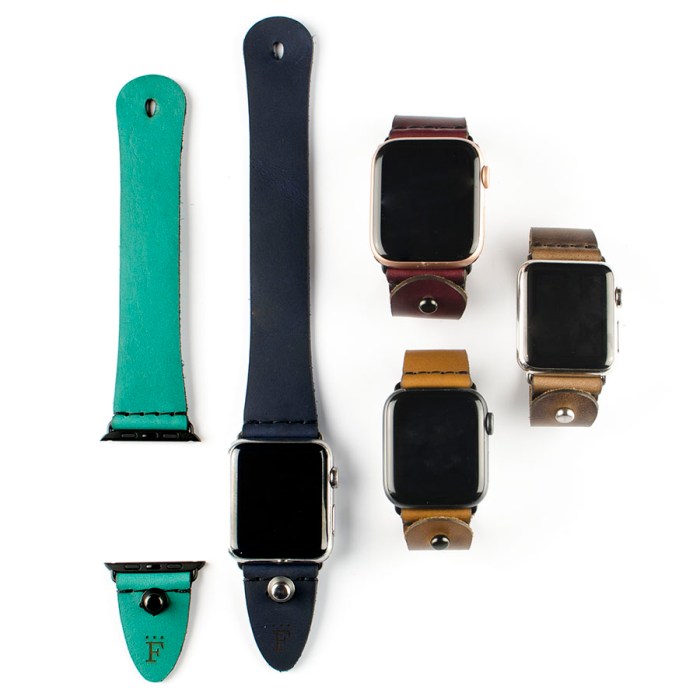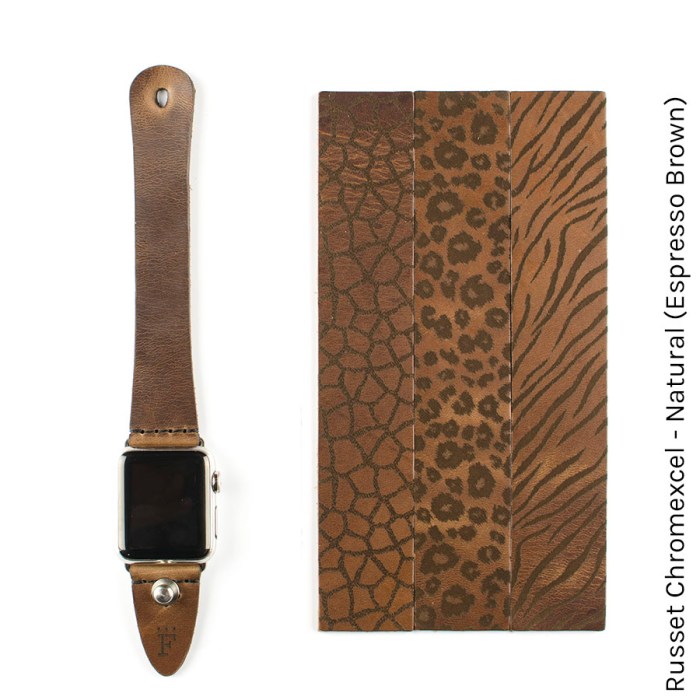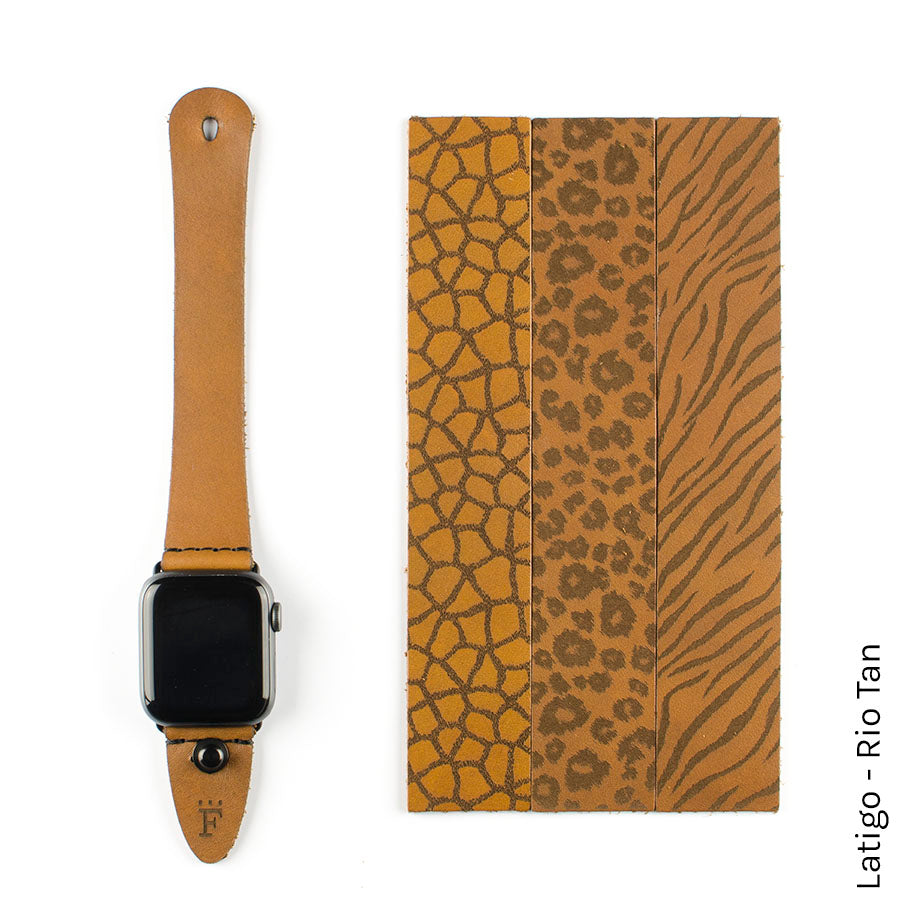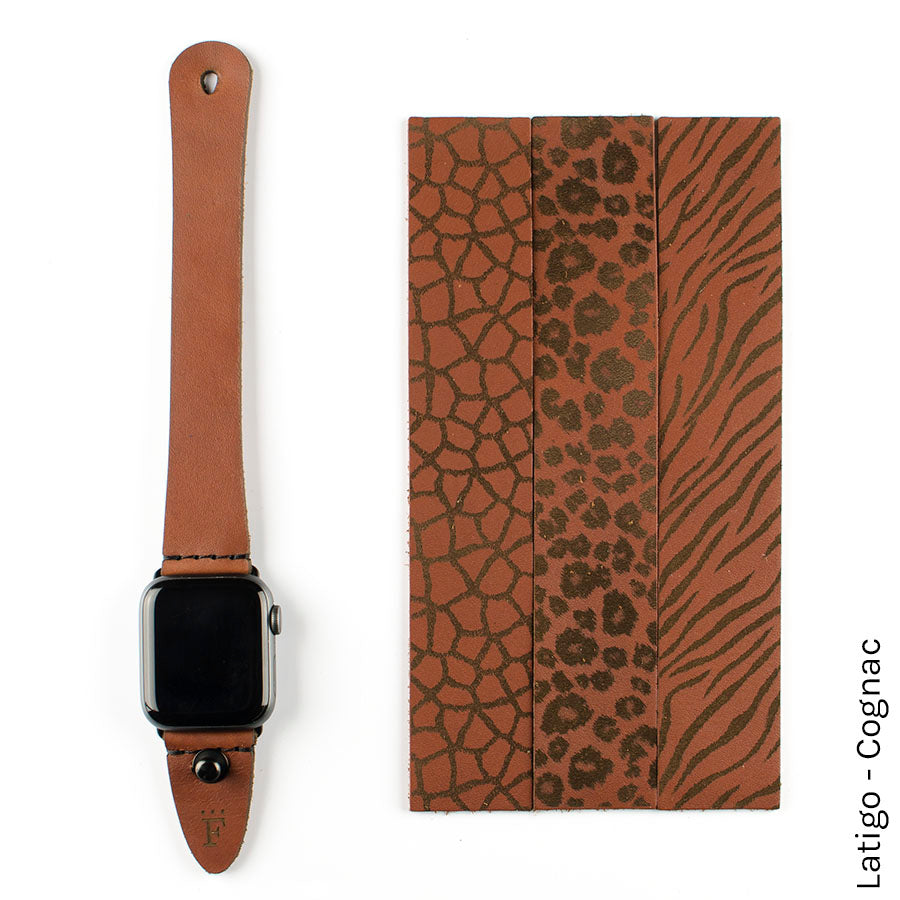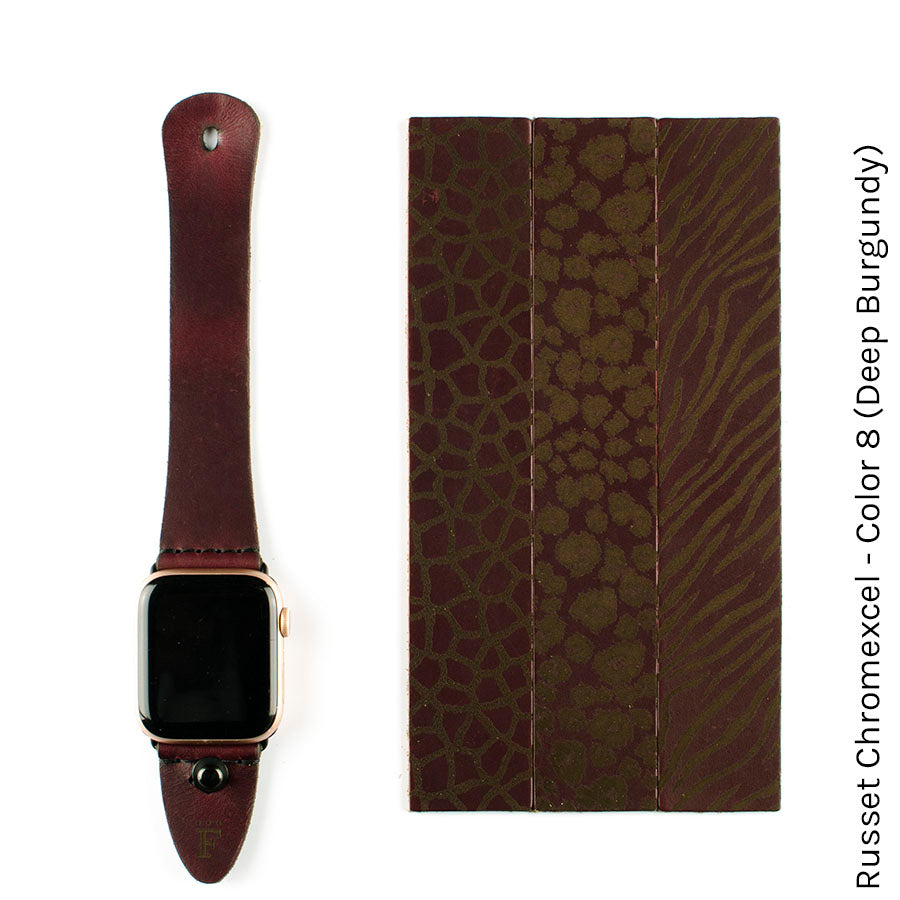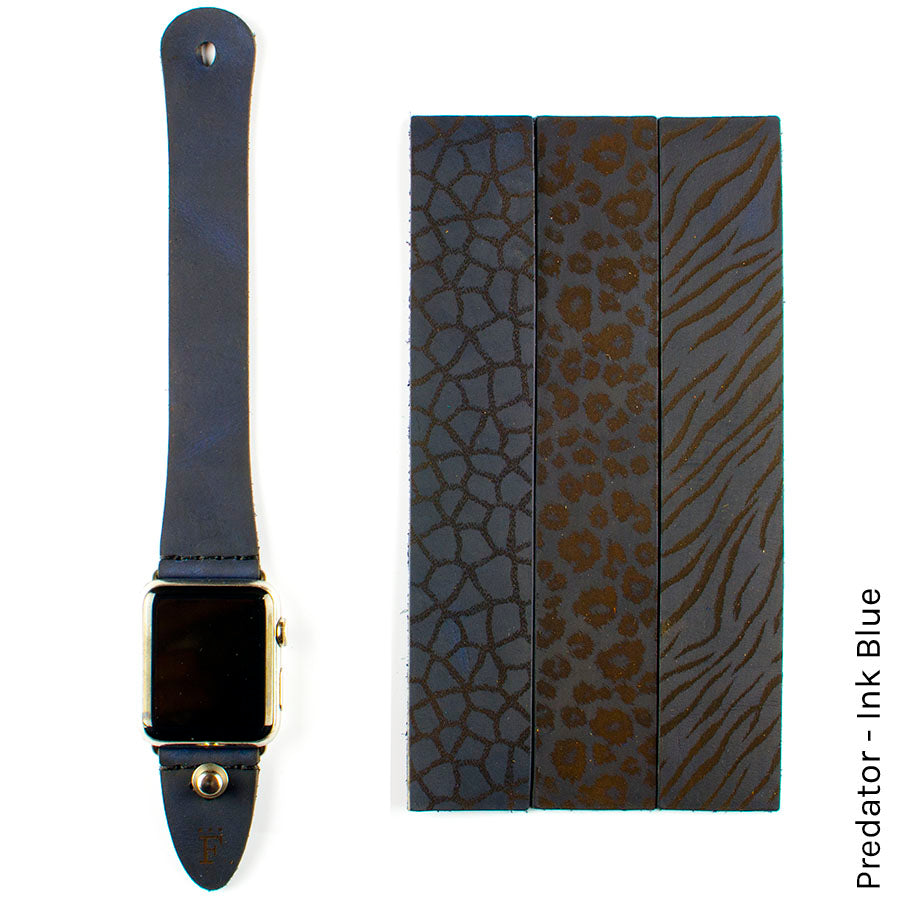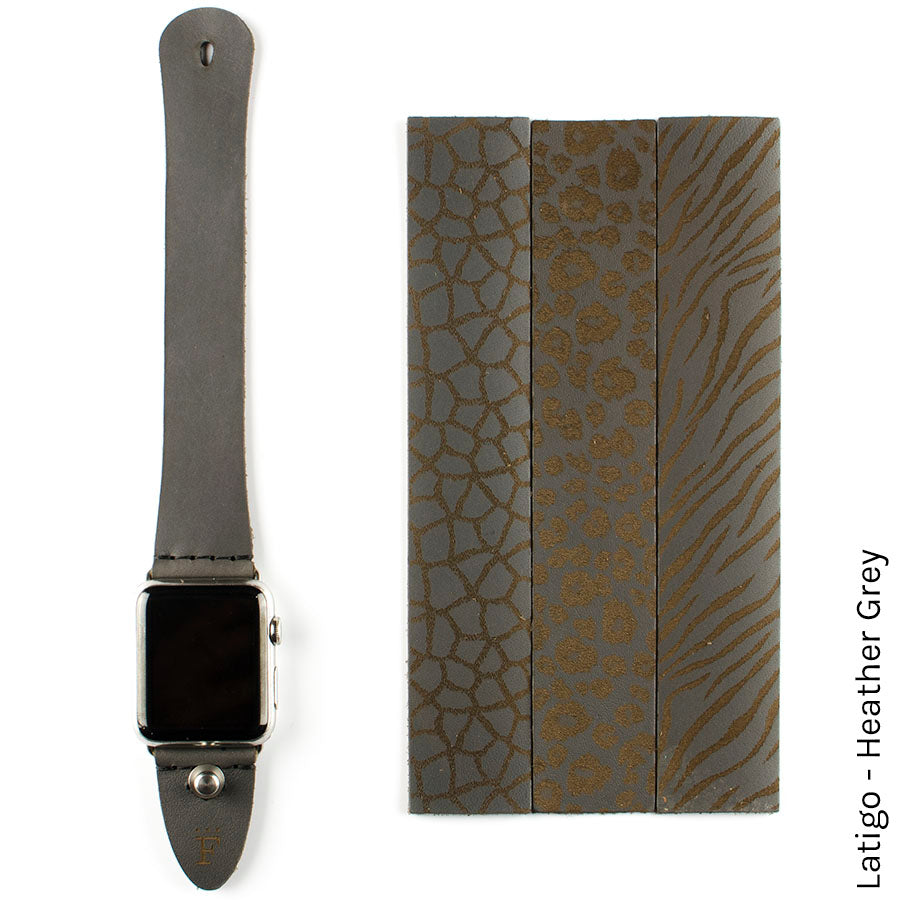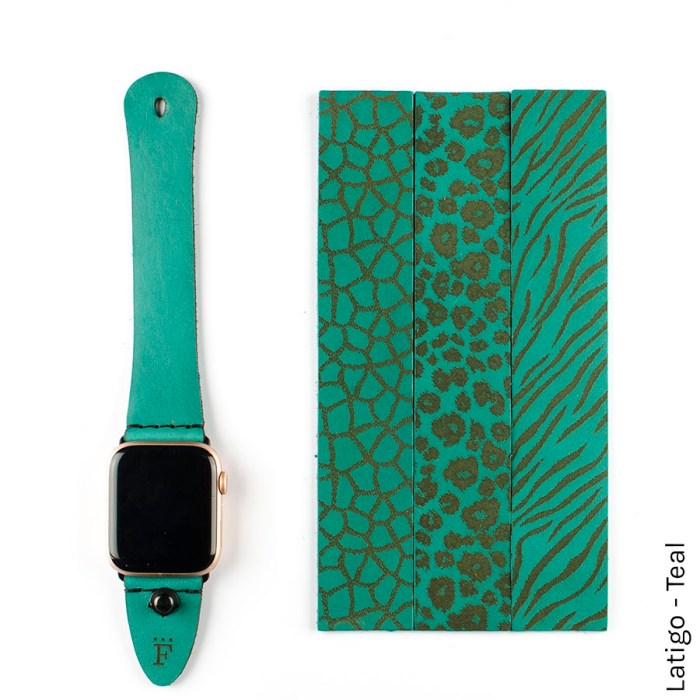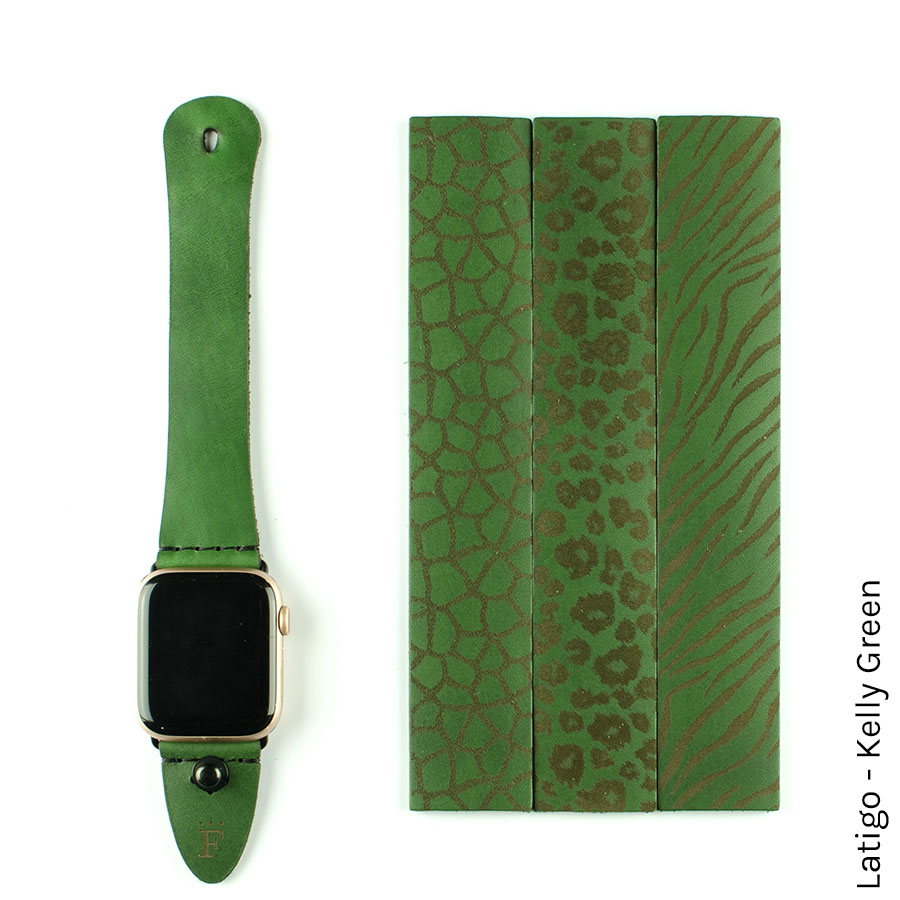 FFF Apple Watchband Sizing Graphic
Amazing experience and band
I ordered the black leather Apple Watch band and unfortunately the size was too small. For some reason my size was a bit off from the standard, but Shawn was incredible and sent me three other bands to make sure I had the right FFFit. He explicitly said that he would rather have me (and any customer) enjoy the band than have it sit in my drawer. And I have! I live in Orlando and love to support a local business that makes great products with excellent customer service. Highly recommended and this is one of the most stylish and unique bands in my collection!
Love It!!
This is my third watch band from FFF. I recently upgraded watches and had to get my favorite band. I get so many compliments on it and it goes with everything!
Apple Watch Band Chromexcel Espresso
I ordered a watch band and when it arrived it was too tight. I sent an email to let FFF know about the sizing issue but not expecting them to correct it since it is a custom order. To my surprise, Shawn wrote back that they would send another band out right away. It arrived a couple of days later and fit perfectly. The quality of the leather, craftmanship and fit of the band is outstanding and the customer service was top notch. If you are considering this band, go for it. Absolutely beautiful product and a great company to work with!
I love my watchband!
FFF did an amazing job on designing a minimalistic, yet iconic, band for my Apple watch. I was a big time fan of their "old school" watch bands (I had two colors) and was stoked when I learned they were accommodating Apple products. Totally worth the price and the customer service was excellent. Love the packaging, as well: "Do not handle with care, we can take it." Pretty much sums it up.
Great quality
This is the third accessory I have purchased from FFF. The quality of this is amazing and I am sure the band will last longer then my watch. I have a very early version of the Architect Wallet that I almost wished would wear out so that I could get another wallet. But after 7ish years it is as good as new.