Regular price
$94.00 USD
Sale price
$62.67 USD
Unit price
per
Sale
Sold out
Note: this is only for those who have already purchased a FFF Apple Watchband, and are adding a second (third?) band.


So, you've got one of our Apple Watchbands, realized it's the damnably coolest thing EVER, and want to add some other colors? Score. How about 33% off?
Since we now know exactly what your size is, and any of the kinks that are common in the initial ordering process are ironed out (maybe you needed a half size up or down, or originally counted from the wrong side of the band and needed a different size altogether), we're giving you a discount on any other colors/patterns you'd like.
Band must be for you; we're making the same size/adapter color options as your previous order (or, if we needed to make any size adjustments, we'll make that size instead obviously). You're just getting a different color to swap out bands (or, if it's your thing, mixing and matching short/long bands).
You can add engraving/patterns/monogramming to your new band, if you're into that kinda thing.
Please note: We will confirm sizing and other information from previous order(s), and attempt to contact you with any questions. If we can't verify your previous order information, we'll cancel your order.
Common questions:
q: I purchased something else from you, can I get an apple band at this discount?
a: Sorry, this is a discounted band because I am certain about your size (and therefore don't need to possibly make and ship a second or third band). 'Repeat customer' can be kind of confusing, but that's how it's being used here: I am certain that I know your exact size and so I know that what I ship you will fit perfectly, so I can offer it at a reduced price.
q: I moved up to a larger watch face (from the smaller one), or vice versa, can I get a band for the new watch at the discounted price?
a: This isn't a perfectly straightforward question/answer.  Apple has the smaller and the larger faces (and, now, the even larger 'Ultra' face). Those faces are actually the same outer dimensions (and therefore the same band size: a 38mm, 40mm, and 41mm are the same dimensions, it's just the screen is slightly larger each generation. Same with the 42mm, 44mm, and 45mm).  So long as your new face is the same smaller or larger face, your band is the same size.  If you jump up or down to smaller or larger face, you actually wear a new size band (if you wore a SM5 on the smaller face, you won't wear a SM5 on the larger face), and this discounted band price wouldn't be for you because we need to again be sure that you have the correct size and that may take a half (or even quarter) size up or down, and therefore possibly more time, materials, and shipping to get you the perfect fit.
Engraving & Monogramming

In general, we are subtle with our personalized engravings & monograms. Smaller products receive smaller monograms, and any personalized messages are hidden where the owner can see them but they are not 'out in the open' whenever possible. If you have specific preferences for any customized engravings, make a note in the special instructions section after selecting your options and we'll contact you to verify after your order.
Product Dimensions

Band width of 24 or 26mm, depending on size of watch, with a taper moving to 80% width in the middle. Length depends on your wrist size.
Product Launch & Revision History

Original Release Date: August 2020
What Kind of Leather Does FFF Use? What's this Chromexcel/Veg Tan/HF stuff instead of just leather color? Where are your products made?

We make everything by hand in Orlando.

As to the leathers we use: The super short answer is Horween Leathers in Chicago, and because we're leather geeks we want you to know exactly what you're getting--it's so much more than just the color of the leather.

You can find more info HERE about how we do things.

You can super-geek about the various leather types/tannages we use in our different products HERE.
Share
View full details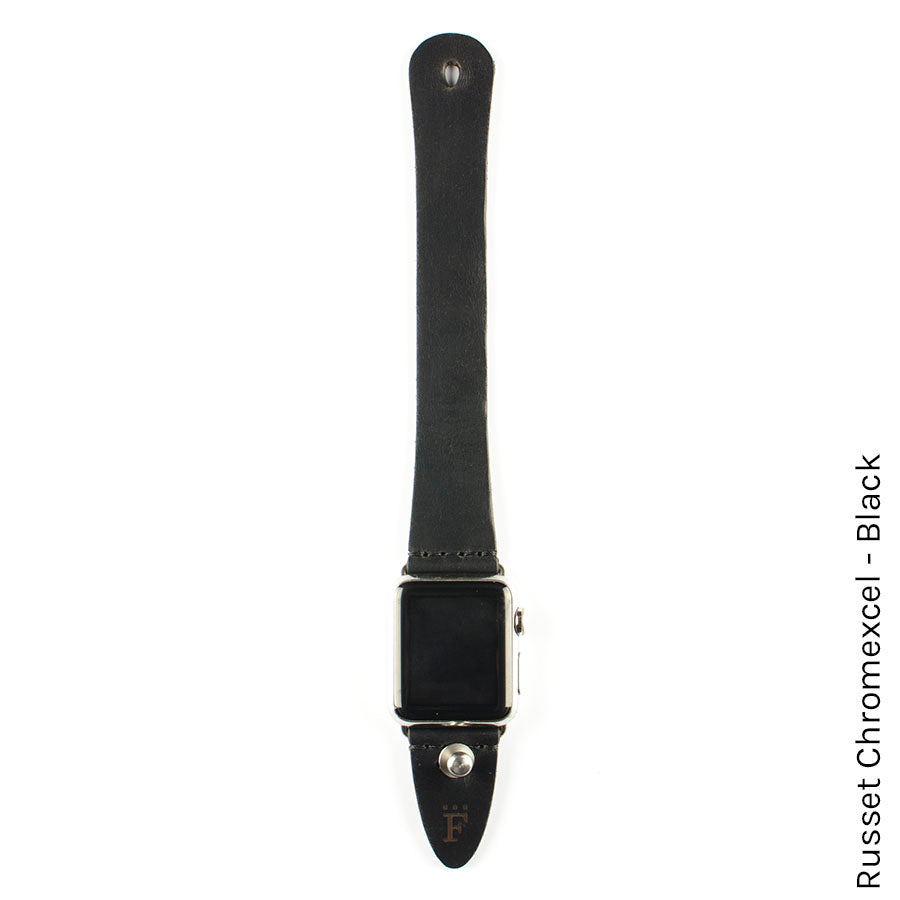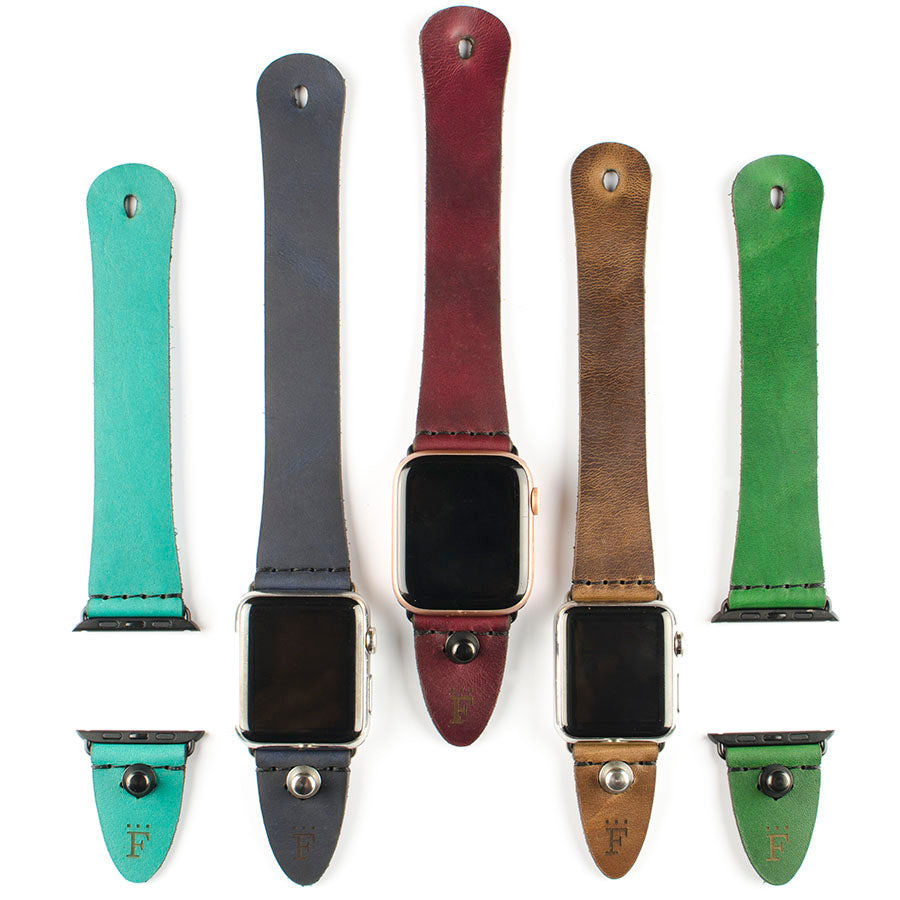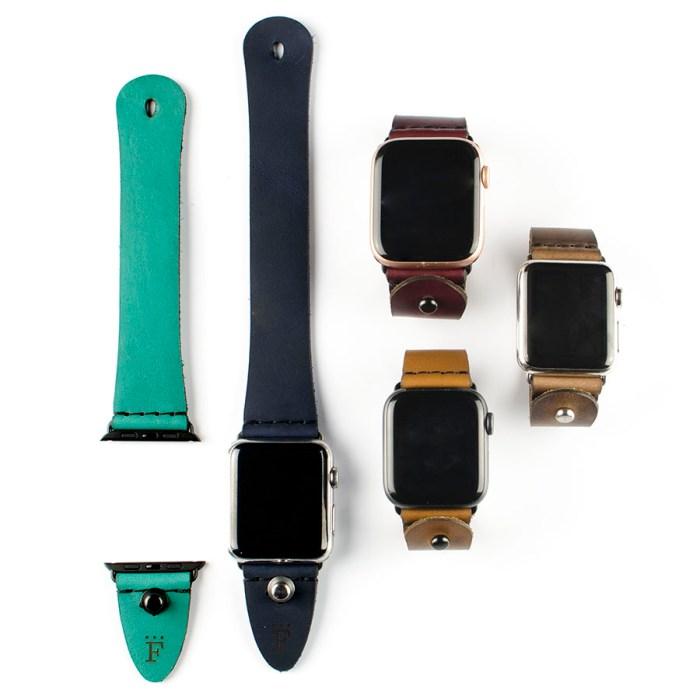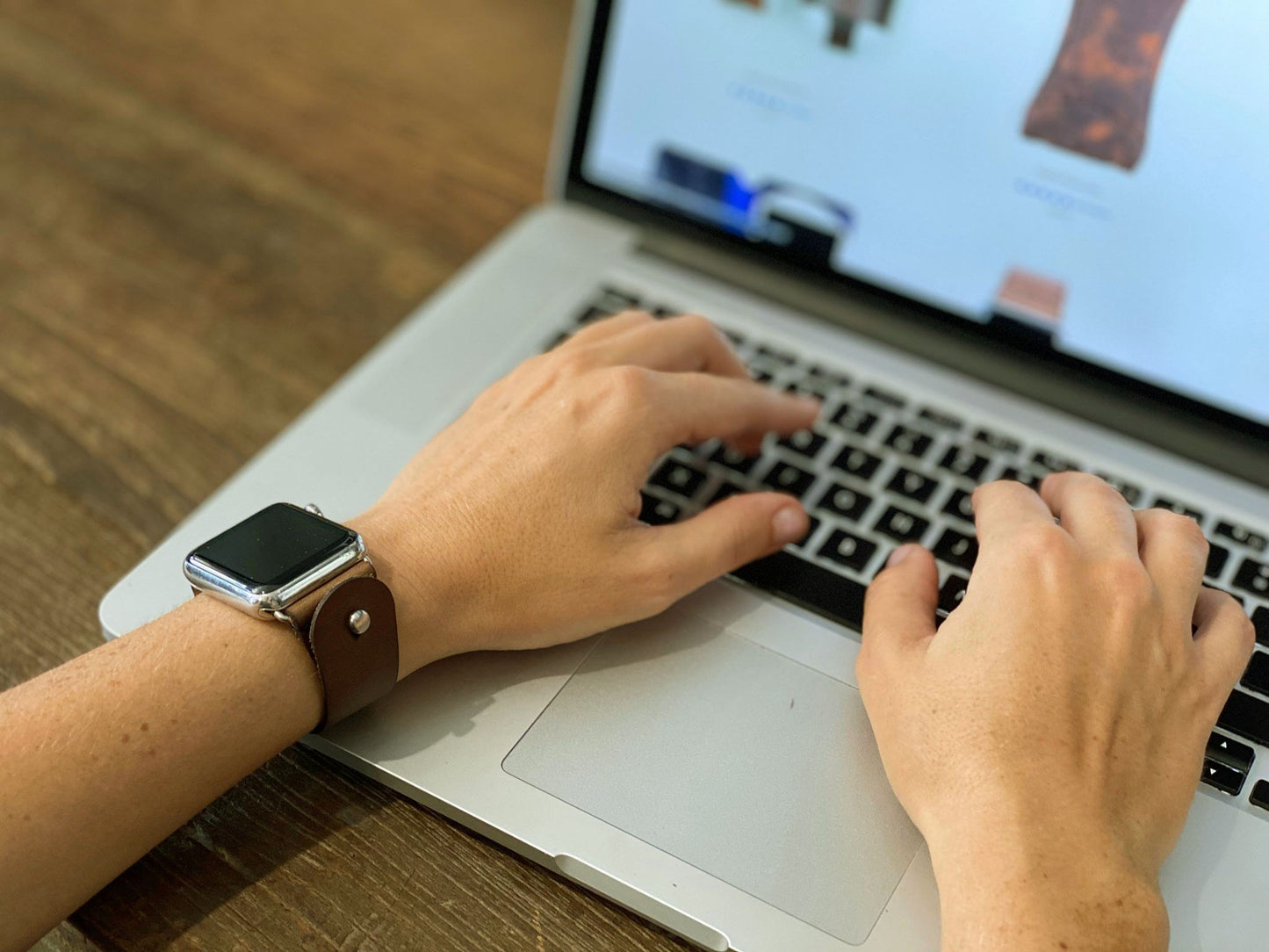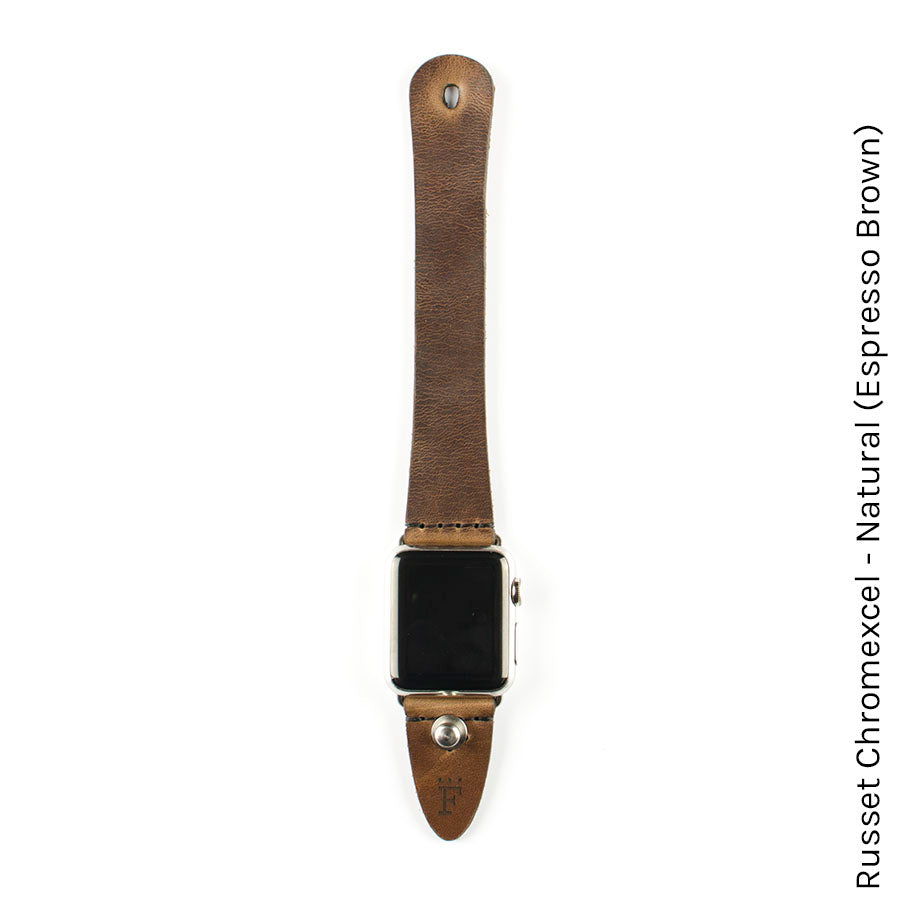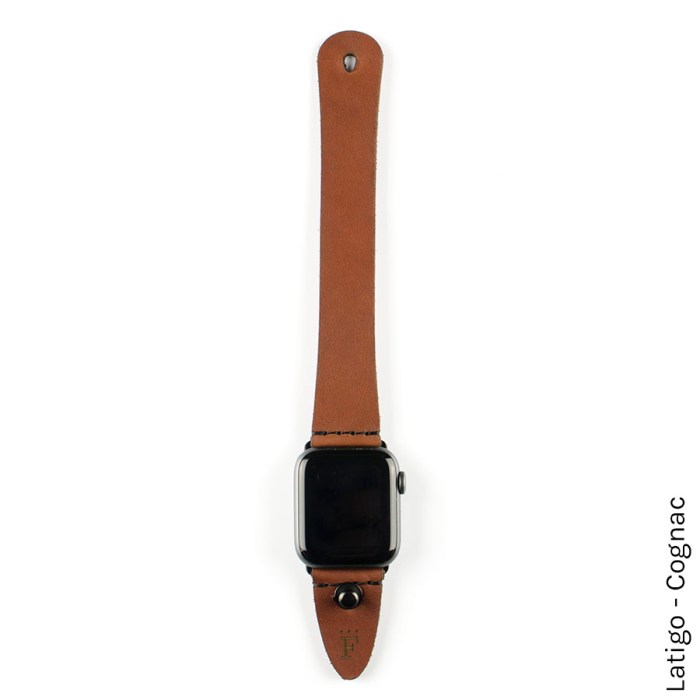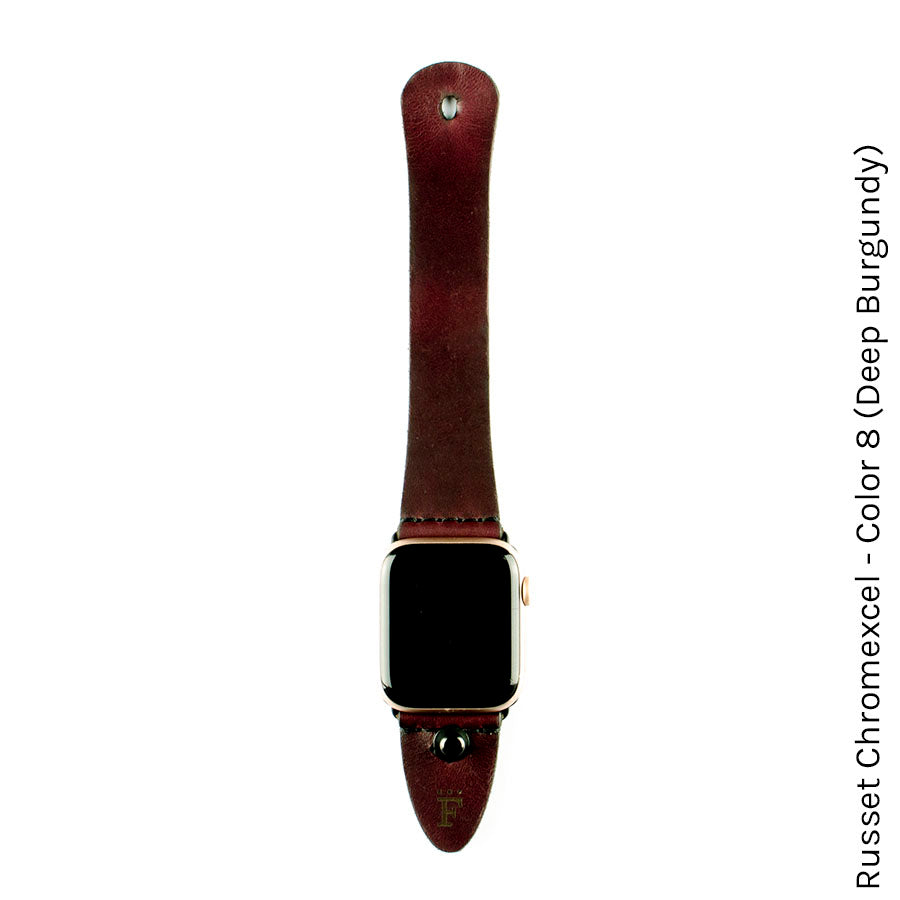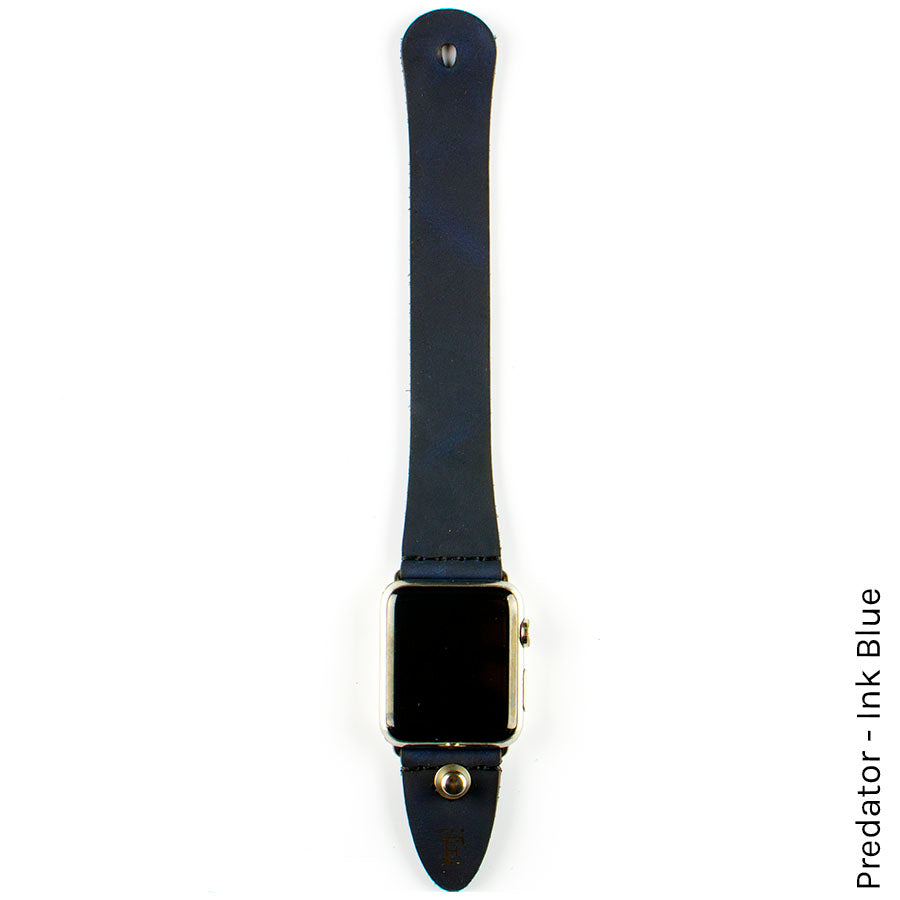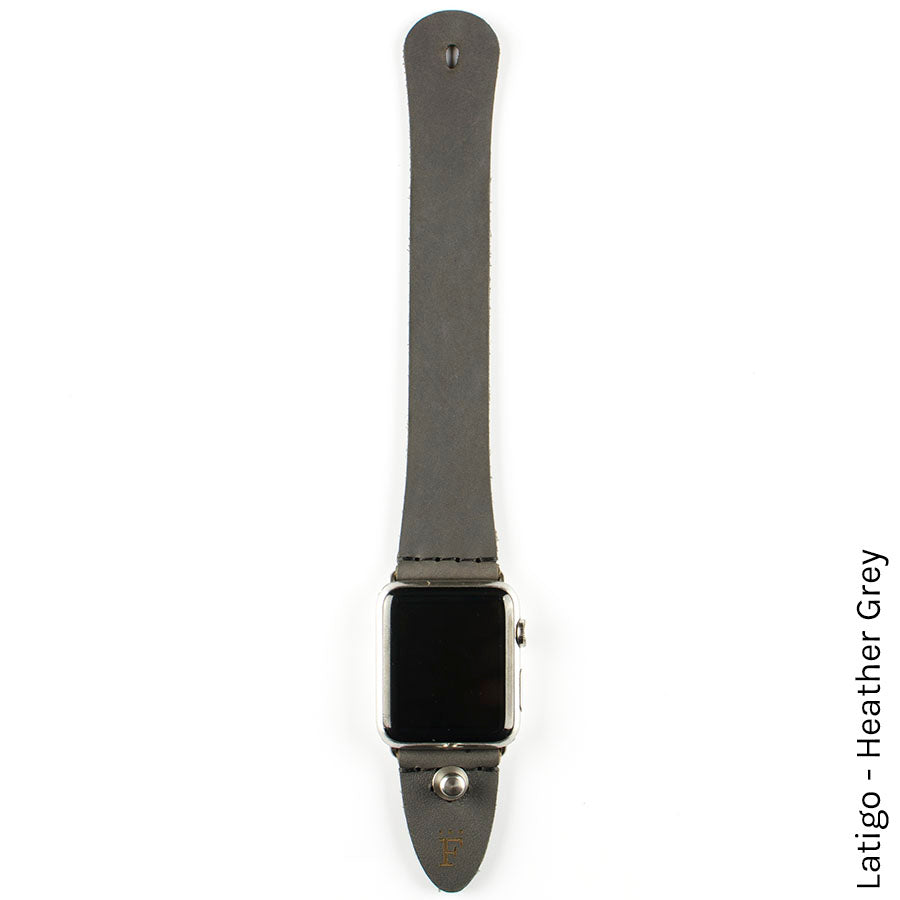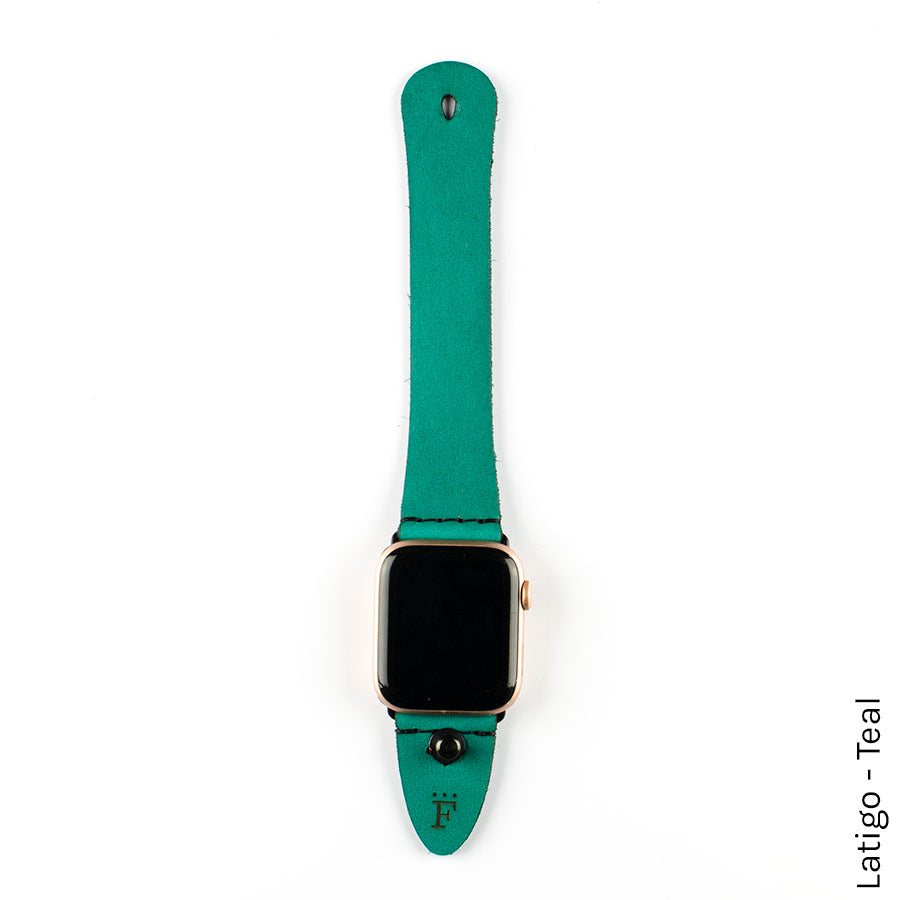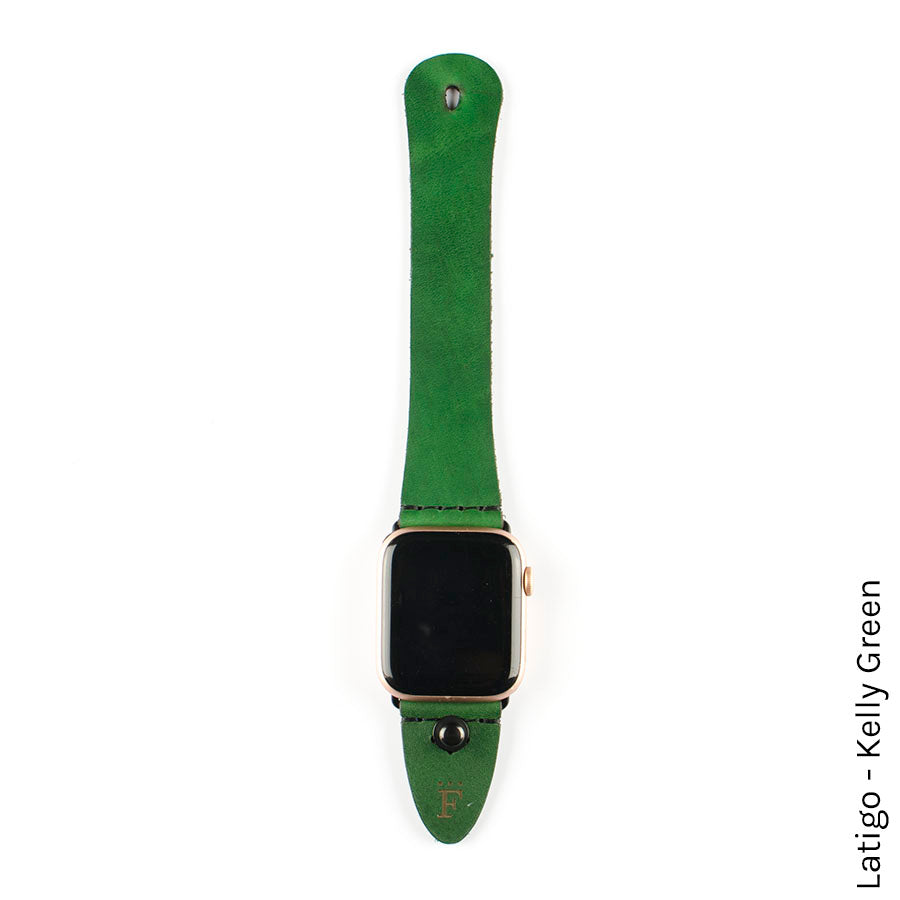 Great!
I really like these watchbands! It's my third band from FFF; my second Apple Watch band. Understated, beautiful, quality.
Love the simplicity
I have three of these watch bands and prefer them over all of the other designs I bought for the first Apple Watch.
My 5th, 6th or 7th band
I try other watch bands but keep coming back to the FFF button stud band for my Apple watch. I do have 2 different size watches so the bands vary a bit in size. I'm very happy with the fit and quality of the bands.
Fantastic as always!
It's been about four years since my last apple watch band FFF. I figured it was time for a color change and I needed a new size. Zero hassle. Quick delivery. Easiest transaction. I love that the closure is out of the way.
Another Great Band!
I had purchased one of these bands a couple years back and wanted to get one more in another color. It's nice that the price is cheaper for returning customers and the quality of these bands are still superb and light weight! Definitely sets the bar on leather bands for my apple watch with nothing being able to match its comfort.